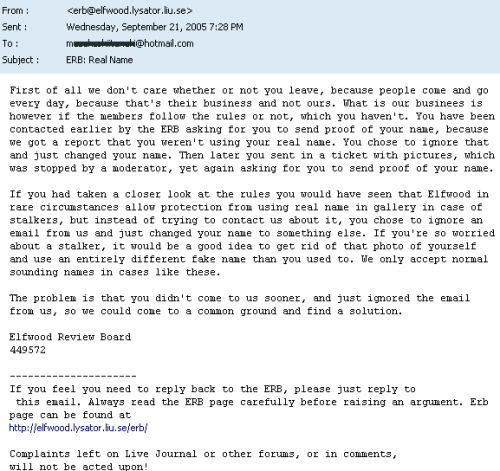 MY REPLY:

Hi, thanks for replying. I know you must be busy.


First of all we don't care whether or not you leave, because people come and go every day, because that's their business and not ours. What is our businees is however if the members follow the rules or not, which you haven't.

This is correct. Let me say it again: I have ceased to follow the 'real name' rule. It's a stupid and dangerous rule that serves no purpose and puts people in real danger. Having freely admitted that I have chosen to break this rule, I encourage you to do whatever is proper to my account. If I somehow gave you the impression I plan to close the account out of some misguided urge to 'prove a point,' you can rest easily. I have no such intention.

I agreed to follow the rule when I initially joined as a minor, before I realized my safety is worth more than a membership on an art website running out of another country where apparently there are no criminals. Now that the terms of the agreement have changed, I won't hold it against Elfwood if they choose to remove me. It's your place and your rules. I attempted to avoid this conflict years ago by choosing a realistic pseudonym, thinking that in the end it wouldn't matter. Unfortunately, I seem to attract conflict on Elfwood, so I'm not too surprised that eventually someone decided to make what we State-siders call a "federal case" out of it.

All that aside, we haven't tackled the essential truth of it yet. Let me boil it down. Elfwood is eager to know exactly what is on my birth certificate, and I'm unconvinced that anyone in the world should have access to that information besides myself and those people who actually have a need for it. The situation has reached an impasse. You're the ones with the website, so you make the call.

---

You have been contacted earlier by the ERB asking for you to send proof of your name, because we got a report that you weren't using your real name. You chose to ignore that and just changed your name. Then later you sent in a ticket with pictures, which was stopped by a moderator, yet again asking for you to send proof of your name.

Completely true. I submitted the Support ticket in reply to the second request when I felt it might be beneficial to explain rather than ignore the accusation.

Again, though: I'm not concerned with whether or not Elfwood is satisfied of my real name. When I was approached and my identity questioned, having long since learned how dangerous the 'real name' policy could be, I changed it to something obviously fake. I apologize if this somehow inconvenienced the lives of the ERB, but even though my behavior in this case was deliberately obnoxious, I feel my crime can be forgiven. It's not like I was doing something really uproarious like putting minors in danger as a matter of site policy.

Being reported was a result of personal conflict which has spawned several situations like this, so I wasn't surprised. But I find it amusing that if I hadn't been reported in the first place, no one would have known I was using a pseudonym, and no one would have cared. So clearly it was not such a vital thing for Elfwood to have, and in the end it doesn't even matter anyway since I no longer maintained my art galleries by that point. I was content to let them fall into ruin when I got the first ERB letter. You could say it was that email that brought me back, however briefly :)

---

If you had taken a closer look at the rules you would have seen that Elfwood in rare circumstances allow protection from using real name in gallery in case of stalkers, but instead of trying to contact us about it, you chose to ignore an email from us and just changed your name to something else.

Indeed, I've seen that rule. It's a wonderful rule, especially if you take advantage of it before you're a victim of a stalker. Not many people have the benefit of such precognition, though, so I hope all future members under the age of 18 are encouraged to use this protection before it's actually required! After all, the Internet is a dangerous place, and there's really no sense in leaving the safety of thousands of children to the whims of any predator that might be looking for an easy target. I myself didn't take advantage of the anti-stalker protection in my younger days, (partly because of all the emails I have ever sent the ERB in the past 6 years, this is the only one to have ever actually received a reply).

By the time I was actually aware of the danger, it was too late to do much good and I was through trusting any website with such dangerous policies to protect me. I took the matter of protecting myself from future trouble into my own hands as a result.

---

If you're so worried about a stalker, it would be a good idea to get rid of that photo of yourself and use an entirely different fake name than you used to. We only accept normal sounding names in cases like these.

I would love to discuss this matter, but trusting art websites to protect my personal information has done me no good in the past (and quite a bit of harm!), so you'll have to forgive me for feeling Elfwood's track record makes it less than a reliable source of advice on personal safety. And on the matter of real-sounding names: the one I was reported for having in the first place was completely real. In fact, it is the name of a relative of mine, who assures me he was never teased in school for having the name. The second name was the fake-sounding one, and we've already established that its silliness was deliberate. It appeared to me that a real-sounding name was not enough to protect me from controversy. Anyway, thank you for your advice on how to protect myself in the future, but I'll be fine calling the shots on my own from now on.

---

The problem is that you didn't come to us sooner, and just ignored the email from us, so we could come to a common ground and find a solution.

As I've said repeatedly in this email, I don't really care about my gallery OR about finding a solution. I'm in the trouble I'm in because I trusted strangers with my personal information when I was too young to know any better. I consider this a learning moment. The real problem is that Elfwood publishes the real names of minors and encourages them to reveal their locations on the World Map.
Ten minutes of searching on Google can and will allow a total stranger access to all the information they might need to find an Elfwood member in the real world.

So really, if you look at it that way, who's got the REAL problem here? A wise-ass who's not an active member anyway and felt like having a harmless laugh at his own eventual expense, or an international website that forces every juvenile member to make their full names and other identifying information readily available to a global audience of untrustworthy strangers without so much as a word of warning about the possible consequences?

Sometimes I feel like Elfwood really IS another world. A happy, magical land where trusting strangers is safe, because there's no such thing as pedophiles and maniacs hunting victims on the web. Must be nice out there. Me, I keep telling people I'm happier on Earth having learned a valuable lesson.

Have fun,
Luka Delaney


--------------------------------------------------------------------------------------------------------------------------------------


I feel like I'm playing Drama Chicken here. Still, even if I lose, at least it'll be funny.