My post to the Elfwood rant journal, pointing out that the sarcasm rule made no sense, was deleted. I have been crying and taking all the pills in my medicine cabinet ever since, but it will not stop the howling depression within me.

I'm pretty sure it was because I didn't lj-cut the bunny picture I posted to make a point about Elfwoodrant's hostility towards non-happy posts, but the real reason was probably that I was criticizing the rules and that my post was funny (FUNNY IS ASSHATERY WHICH WILL NO LONGER BE TOLERATED). The community rules say you're allowed to criticize its rules, but the maintainer deletes anything she considers "asshatery," such as when threads go off topic. No wonder she's whining that it's hard to moderate the community.

EffWad's rant community is the best rant community EVER! You're welcome to "blow off steam" and complain about the rules, as long as you're never more than "occasionally" sarcastic and never commit the dreaded "asshatery." Or else BALEETED!

Sarcastic comments will be deleted. Arguments will be deleted. Off-topic threads will be deleted. This, according to the community rules, is "minimal moderation."

EDIT:

I'm toying with reposting the rant with an lj-cut this time, to see if it stays up. Well never mind that. I fixed it to be TOS-abiding, but my post is being screened. What are the bets it NEVER gets approved?

COULD MY VOICE HAVE BEEN SILENCED FOR FAILING TO LJ-CUT A 30k IMAGE OF BUNNIES? STAY TUNED TO FIND OUT!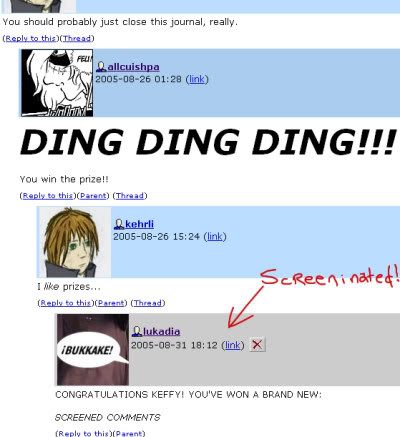 The mods are also screening all comments on the Asshattery thread. I bet she doesn't allow anything I post to be displayed. To test this theory, I will now go and reply to anybody that addressed me and see how many of my replies show up.

I will keep taking these pills in hopes that my sorrow will end soon. The crying, it is uncontrollable.


EDIT: ELFWOOD-RANT IS NOW A MODERATED POSTING ATMOSPHERE, AND *ALL* COMMENTS HAVE BEEN DELETED AND TURNED OFF ON THE ASSHATTERY THREAD.